A day at Reptilia Zoo
We're a CAZA-Accredited Zoo focused on Education, Science, and Conservation.
Reptilia Zoos are Canada's largest indoor reptile facilities!
Experience the entire world of reptiles at one of our CAZA-Accredited Facilities! In one day you'll travel through jungles, deserts and even the wilds of Canada itself to meet some of the Earth's most elusive and mysterious residents! Our Facilities are a self-guided experience open to everyone every day of the year besides Christmas! You'll find over 250 animals on display throughout the zoo. Although reptiles are our specialty, watch out for colorful amphibians and fluffy arachnids as well!
Engage with our passionate Cast Members as they perform their reptile care duties! Throughout the day you can watch them maintain the exhibits, clean the venomous snakes in the Venomous Workshop, prepare food in our Creature Kitchen and interact with them throughout the zoo. Throughout the day get to know our animals even better by attending one of our six scheduled shows or tours and four scheduled feedings! No need for fear! Our animals are securely contained in escape-proof exhibits, for their health and happiness as well as yours! Our animal ambassadors are safe to meet under the close supervision of our expert Cast Members, and no one is forced to interact with animals if they are unsure!
Make the Most of Your Visit to Reptilia Zoo!
Budget a minimum of 2.5-3 hours for your visit
Dress in layers! The zoo is very warm!
Check out the Feeding Schedule to make sure you don't miss out on your favorite animals!
Every show or tour is different, plan to stay for a few!
Vending machines are on site, but feel free to bring some snacks or a lunch!
Playground onsite for little ones to let out steam!
Special Experiences to Add to Your Day (Extra Cost)
No pre-booking required, just chat our Reception Cast to plan your day!
Feed a Reptile! – Take part in the day to day care of our animals, feed a turtle, tortoise, snake or lizard! They will love you for it!
Behind the Scenes Tours – See the zoo from behind the exhibits on one of our half hour or hour-long guided tours! You'll get to see how we prepare our diets and safety work with venomous snakes, and of course, have the opportunity to meet and feed some of the animals as well!
Photo with a Reptile – Bring home a souvenir to remember your experience at Reptilia! Photos can be taken with a variety of small friendly reptiles including a baby alligator
Our Reptile Family
Where do our reptiles come from?
Every city has a dog and cat shelter, but there are few options for reptiles in need of new homes! Reptilia is committed to helping private owners and government organizations find suitable lifelong homes for these animals, which cannot be released to the wild.
Although Reptilia cannot take in every animal, we take in as many as we can, and aid in finding appropriate homes for those we cannot. We've worked alongside other zoos and U.S Fish and Wildlife to send smuggled alligators back to their native homes in South Carolina and have helped find wonderful lifelong family homes for appropriate pet species.
Reptilia is committed to protecting native habitats and species, we do not remove animals from the wild for the purpose of display our educational programming, although we will help rescue species that may have originated from the wild but may not return there.
Meet some of our Residents!
Where do our reptiles come from?
Sophia, Isabella and Olivia the Red Eared Sliders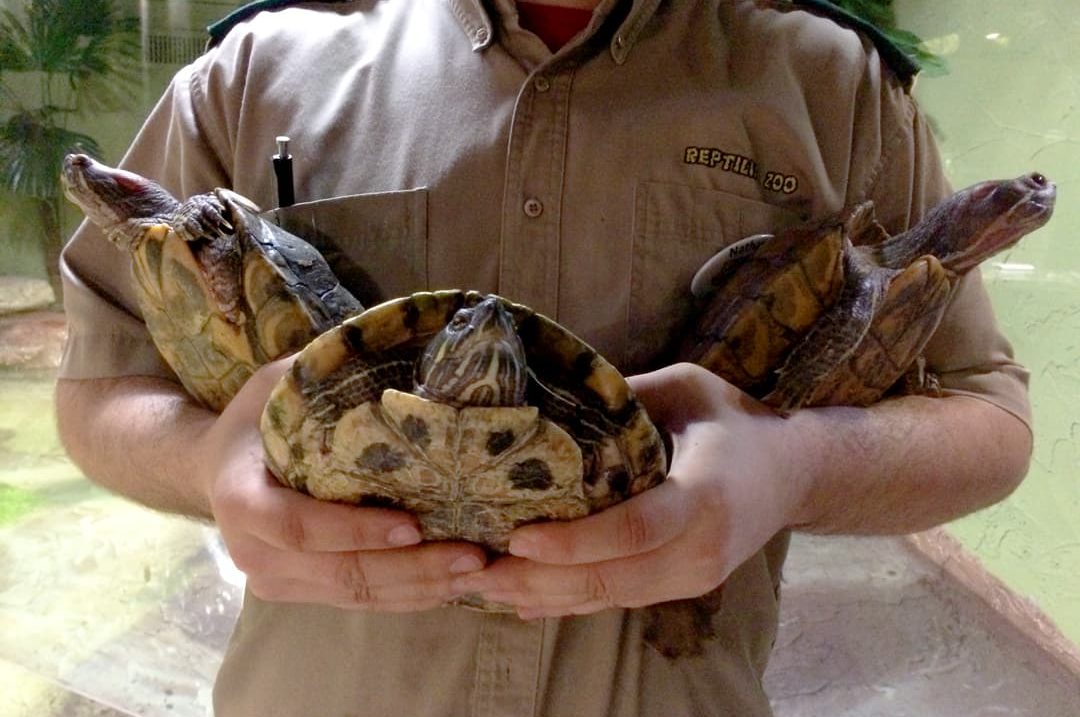 Read their story
Red-eared slider turtles are cheap and commonly available in pet stores around the world, making them one of the most common pet reptiles in people's homes. Although turtles can make fascinating and rewarding pets to those that know and are prepared for what they are getting into, their incredibly long lives and messy habits often become too much for most people, and they often find they cannot keep the turtle for its whole life.
These three lovely ladies were much loved and appreciated by their owner, who cared for them for 28 years! Unfortunately, she had to move into a retirement home and was not able to take the turtles with her there, so she brought them to Reptilia in 2011 where they have been living happily ever since!
Toothless, Arya and Sarah the American Alligators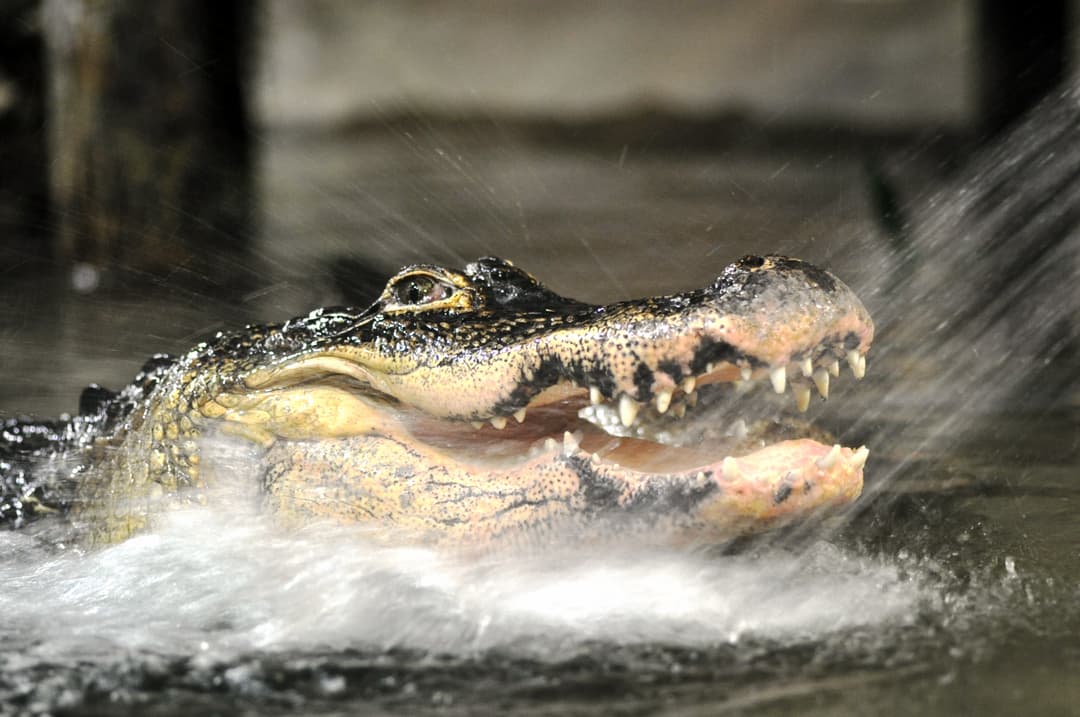 Read their story
Ever thought of having a pet alligator? Some people do! Due to their tremendous size, lengthy lives and specific care demands, they don't typically make the best pet choice! Beyond that, they're protected in their native country, the United States, and it's illegal to bring them to Canada. The only way they get here is by being smuggled into the country, and that's exactly what happened to our alligators Toothless, Arya and Sarah.
They were much smaller then than they are now, small enough that they could be sown in the lining of the smuggler's jacket. However alligators are very vocal animals, and those baby gators happened to call for help right at the border, triggering an investigation. The babies were able to make their lifelong home at Reptilia, but many alligators still get smuggled into Canada for the pet trade.
Biscuit the Box Turtle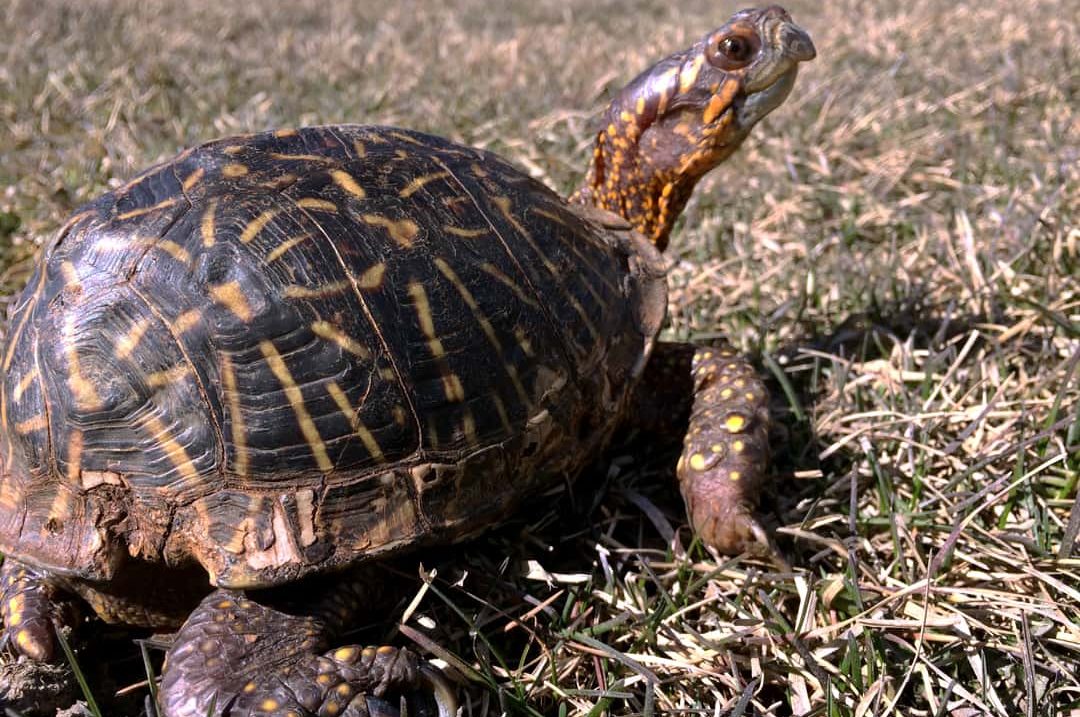 Read his story
Turtles have incredibly long lives and tend to take a lot more care then many people expect. Finding a new home is incredibly difficult due to the vast quantity being surrendered, and sometimes people end up being released into the wild. Although this may seem like a nice alternative to living in a cage, most released turtles do not survive, and those that do often have negative impacts on the native wildlife.
Biscuit had a narrow escape. The first thing that found him after being released into the wild in British Columbia (thousands of kilometers from his native range in Florida) was a dog. Although Biscuit's shell likely saved his life and limbs that day, he still carries the scars of the bite marks in his shell and is very fortunate he was found by someone before the dog did more damage.
Kiva the African Grey Parrot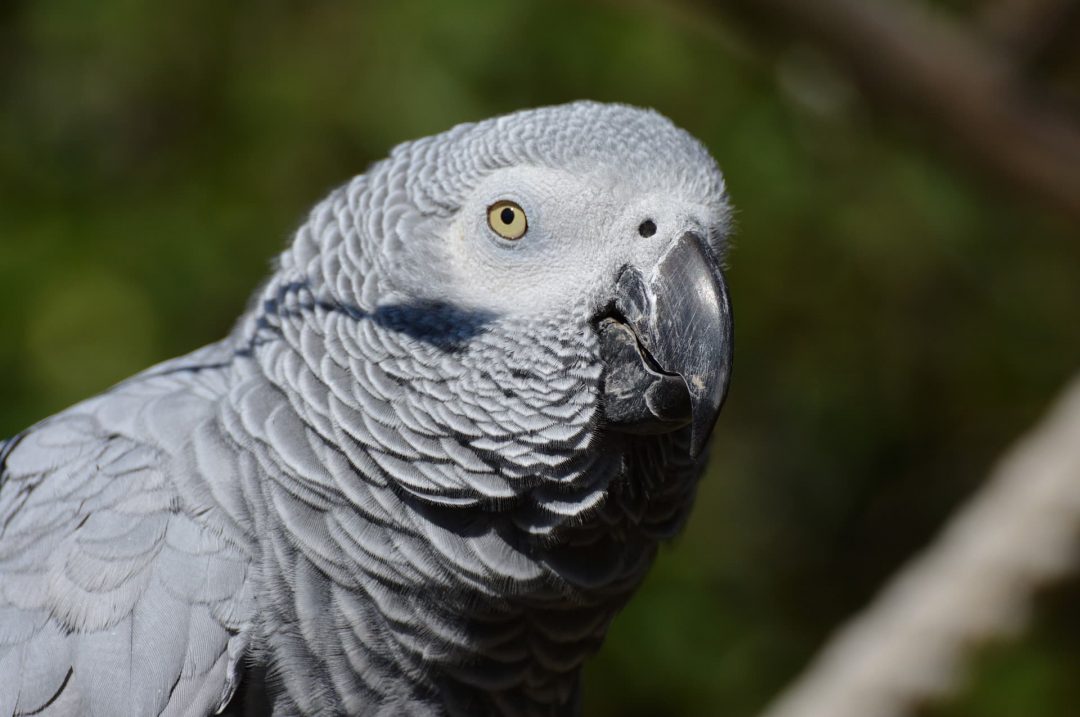 Read her story
Birds may seem like an excellent choice of pet. Colorful, interactive, smart, abilities to sing or even speak-they are amazing! However many birds such as parrots have difficulty thriving in a traditional household where their owners are away for many hours of the day at work. Left alone, these super intelligent and social animals become distressed and bored, snowballing into acting out when their owners get home. Chattering becomes screaming, the investigation turns into destroying and these behavioral problems can be beyond the average family's ability to tackle. Many of these birds end up getting abandoned.
Kiva had this happen to her more than once, traveling from home to home. She eventually ended up at the aviary where she was born, but the owner was getting older and no longer able to care for the birds – he needed to find homes for them fast. Kiva came to Reptilia, where she has daily stimulation and loads of attention from Cast Members and Guests alike!