RECF Education
Curriculum Enrichment – Why do we need it?
"The day you walk into a classroom with a boa constrictor is a day the kids will remember for the rest of their lives and they will remember what they were taught as well."
– Vincent Citriniti | Science Administrator, Toronto Catholic District School Board
The unique connection that we share with animals forms the core of RECF Education enrichment programs and is a big reason for the success of our programs over the years. By combining a highly memorable experience with a classroom lesson, the student is more likely to recall what was taught, "the time they brought a live gator into our classroom!"
Our passionate Reptile Educators are both teachers and animal handlers. By using live animals as learning tools in the classroom, lessons become hands-on experiences that bring the curriculum to life.
Examples
Touching the sharp spines of a uromastyx lizard's tail demonstrates that it is a defensive adaptation against predators
Seeing the features a legless lizard up close helps a student understand why it is, in fact, a lizard and not a snake
All of Reptilia's classroom enrichment programs are compliant with provincial science curriculums to ensure our lessons are parallel with what is currently being taught in school.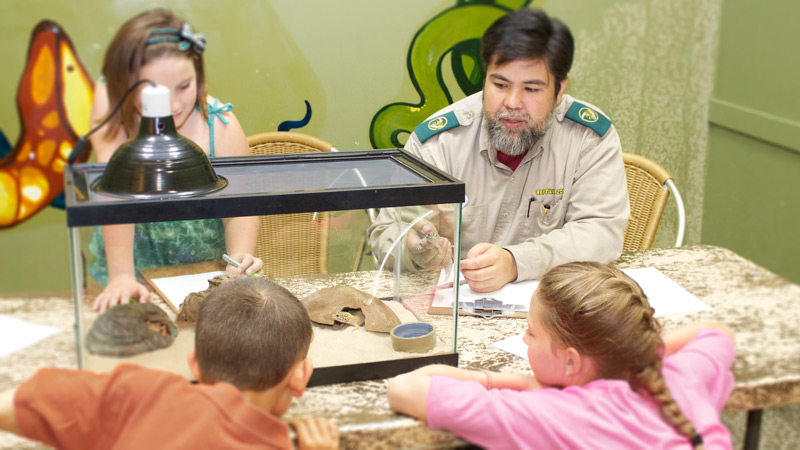 Gecko Habitarium Program
The Gecko Habitarium is one of our most highly demanded classroom curriculum enrichment programs. In this program, a pair of docile leopard geckos become the classroom pet for a semester. Having live animals in the classroom naturally evokes curiosity about core biological concepts, such as:
Sense: How do these geckos perceive the world (vision, hearing, taste, etc.), and how does it differ from us?
Food Chains: What does the gecko eat, and what might eat the gecko in the wild?
Adaptations: How does the gecko's big fat tail help with its survival?
If the classroom is lucky, they may even get to witness a gecko's life cycle – many of our geckos have laid eggs during their stay in classrooms, and students had the chance to incubate the eggs and watch the baby geckos hatch a few months later!
The geckos' enrichment extends beyond biology into subjects, including numeracy, literacy, and creative arts. It has also been shown that having a classroom pet generally raises students' happiness in the classroom, and encourages peer-to-peer social interactions.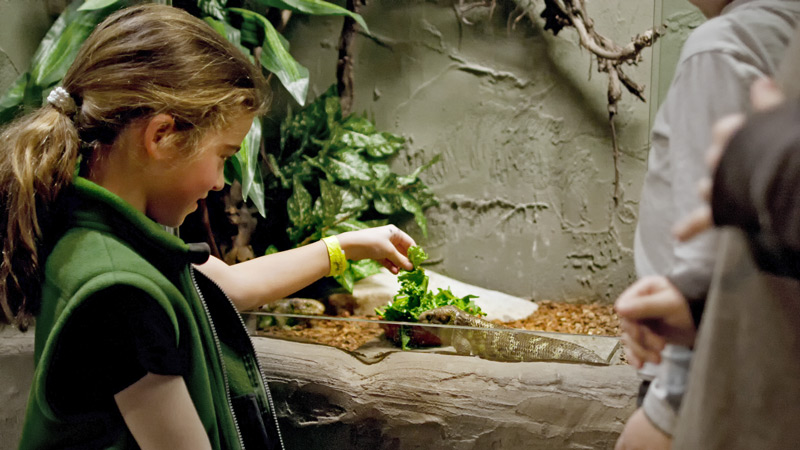 Learning at our Zoo
Reptilia Zoo is basically great big science classroom and is the perfect field trip to accompany biology courses at any grade level. We have over 100 species representing the major reptile groups – snakes, lizards, turtles/tortoises, and crocodilians – as well as a number of amphibians and arachnids from all around the world. Our exhibits are designed in a way that lets the student see the natural behavior of each animal whether they climb trees, dig burrows, or forage for insects.
Students learn about animal diets and food chains, as we have multiple live feedings every day at the zoo. Lastly, our reptile shows are designed to be both entertaining and informative, and students have the chance to get up close to the animals they see in textbooks in a safe, interactive setting.