Reptilia Reptile Store
Food and Supplies for your Reptile
Reptilia's Reptile Store is a paradise for reptile enthusiasts. From the first-time reptile pet owner to the more experienced, our knowledgeable cast will make each visit a personal experience. With a wide selection of enclosures, lighting, décor, books, and supplements for all reptile needs, one can spend hours looking through the variety of goods that Reptilia has to offer.
You may also purchase Reptilia's frozen feeder rats and mice along with a variety of bugs such as crickets, wax worms, butterworms, superworms, silkworms and tomato hornworms.
Adopt, don't shop!
Reptilia and its facility are members of CAZA, that means that we have pledged to uphold keeping and care standards for our reptiles and have chosen to not sell animals.
We do have reptiles available for adoption! Reptiles that have been rescued or surrendered and that we simply do not have the capacity to maintain long-term. If you're considering becoming an exotic pet owner, please consider adopting a reptile. Our expert keepers will advise and guide you through the adoption program so that you are fully prepared to be a reptile keeper.
For More Information Please Contact Us;
E-Mail: retail.vaughan@reptilia.org
Phone: 905-761-6223 (X221)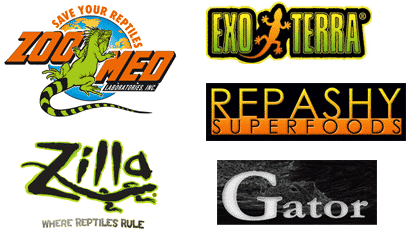 Core Reptile Store Services
Just like in the case of cats and dogs, sometimes people bring an animal home that they are not well equipped to care for or have changing circumstances in their life where they can no longer care for their pet. Reptilia provides a link between these animal's previous circumstance and their new forever family.
Want to Adopt?
Select a Pet – We encourage would-be pet owners to do research prior to coming to Reptilia to determine which type of pet is appropriate for their circumstances.
Prepare the Set Up – Reptilia has set guidelines for what is needed for the habitat of its adoptable pets in order to take one home. They can be purchased from Reptilia, or if already owned, we require photographic proof that the set up meets our minimum standards.
The Adoption Interview – Adopters must pass an adoption interview related to the care of their new pet. Adopters are expected to know elements of reptile care such as, but not limited to, what the pet eats, what temperatures and humidity they need and how long they live.
The Adoption Agreement – The adopter must read through and agree with the items listed in the adoption agreement.
Take Your New Pet Home – Once all that is done, you are able to take your new pet home! Congratulations!
Follow Up – Reptilia is always here for you! We want to hear your questions and concerns throughout your pet ownership, and we will check in from time to time to ensure everything is going well!
Have an Animal to Surrender?
Space in the program is limited, so we may not always be able to take in your pet. If you have an animal you would like to surrender, please e-mail a current photo, along with the animal's known history to zoo@reptilia.org and we will assist you through the surrender process.
Reptilia's Reptile Store food prices are the best in the GTA! Buy a little, or buy a lot, but save a ton!
Prices subject to change without notice. Please call or email for more information.
A huge variety of tall, wide, and custom size enclosures are available at our reptile store. Drop in and find the perfect size for your pet. Need help choosing, and even building the enclosure? Our expert keepers will help you select and even build the enclosure for you! Ready to be picked up and taken home.
Additional Reptile Store Services
Connect with us on Social Media
Stay up to date on news, events, special discounts, and maybe a few cute baby reptile pictures!