This experience is currently unavailable due to COVID. We apologize for the inconvenience.

Please contact our booking line with any questions.
Reptilia Phobia Course
Book today and live phobia free - 4 sessions for only $399!
Click Here to Book Now and Live Phobia Free!
Our Mission to End Fear
A phobia is defined as an irrational fear, and our phobia course is specifically designed to help you conquer that irrational fear. Snakes and spiders are two of the most feared subjects of all time, although this negative reputation is mostly undeserved. Phobias can interfere with daily life in ways that trigger anxiety in everyday situations or by causing a person to avoid certain activities.
Take our friend Ann for example. She stumbled into a snake at her cottage, and found the encounter so unnerving, she didn't want to go back. She was even considering selling the property! After attending our phobia course, she felt much better and enjoys her cottage with her mind at ease!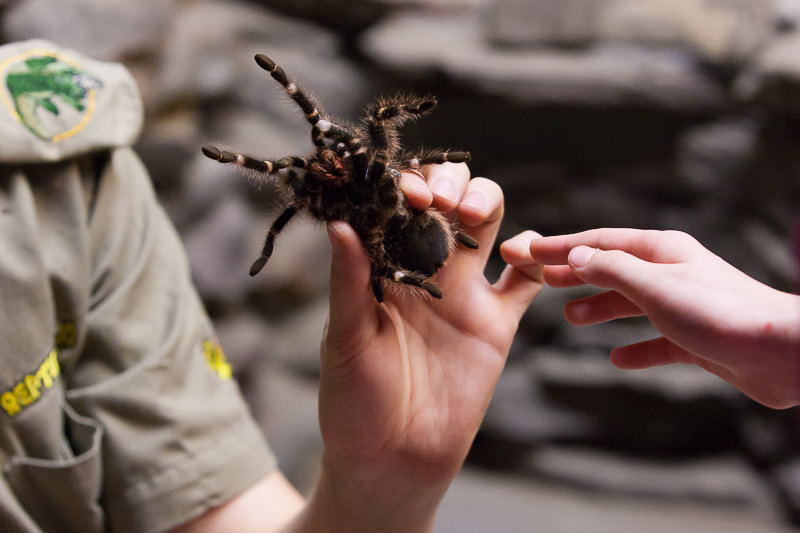 Toronto Star Phobia Article
See how we helped a Toronto Start Reporter face her fear of snakes!
Facing My Fear of Snakes Article by Andrea Gordon of The Toronto Star Family Issues...
Reptilia has designed a course that is personalized to match the unique differences in every individual's personal phobia. We create a safe, pressure-free environment for those who wish to learn to control their fear.
The course takes place over four sessions an hour a piece. There are no surprises, and your teachers will pace themselves based on your level of comfort. In the beginning we start by familiarizing you with the subject of your fear; busting common myths and answering your questions. You will learn how to avoid the animals and what to do in situations if you encounter them. As you become increasing more comfortable we bring out pictures and artefacts such as skins and bones for you to interact with. The next step is observing the animals in their exhibits, and learning why they behave the way that they do.
Eventually the zookeepers will go in exhibits with animals to show how they behave and react to a foreign presence or what they do when threatened. Ultimately by the end of the course we hope that you will be able to interact with the subject of your fear with a much different perspective than the one you started out with!
Results Guaranteed!
It helped that the four-foot-long python had the same colors as my cat. And that he was almost as lazy. But the real reason I wriggled free of a lifelong snake fear and actually touched one is Reptilia's Phobia Course and a herpetologist named Lee Parker.