About Reptilia
Reptilia's Reptile Kingdoms are Canada's largest indoor reptile facilities!
Experience the entire world of reptiles at one of our CAZA-Accredited Facilities! In one day you'll travel through jungles, deserts and even the wilds of Canada itself to meet some of the Earth's most elusive and mysterious residents! Facilities are a self-guided experience, open year-round, except for Christmas Day! You'll find over 250 animals on display throughout the zoo. Although reptiles are our specialty, watch out for colorful amphibians, and fluffy arachnids as well!
Engage with our passionate Cast Members as they perform their reptile care duties! Throughout the day you can watch them maintain the exhibits, clean the venomous snakes in the Venomous Workshop, prepare food in our Creature Kitchen and interact with them throughout the zoo.
Throughout the day get to know our animals even better by attending one of our six scheduled shows or tours and four scheduled feedings! No need for fear! Our animals are securely contained in escape-proof exhibits, for their health and happiness as well as yours! Our animal ambassadors are safe to meet under the supervision of our expert Cast Members, and no Guest is forced to interact with animals if they are unsure!
Our Reptile Family
Where do our reptiles come from?
Every city has a dog and cat shelter, but there are few options for reptiles in need of new homes! Reptilia is committed to helping private owners and government organizations find suitable lifelong homes for these animals, which cannot be released to the wild.
Our Commitment & Animal Stewardship Promise
As a zoological institution, Reptilia has an obligation to the animals it houses. Here is the promise of every Reptilia Cast Member to each and every animal we care for.
Our animals receive the highest standards of care in accordance with Reptilia's Facility Operation Manuals which incorporate those established by the Canadian Association of Zoos and Aquariums (CAZA – CAZA.CA) of which Reptilia is a member
Our animals will not be purposefully removed from the wild for use at Reptilia. Our animals originate from rescue situations or are already captive animals to which we have been asked to offer a lifelong home
Our animals have proper care for life. When they arrive at Reptilia they stay or are placed into our retirement program where they continue to receive the same standard of care they've been used to with Reptilia for their entire stay on earth
Our animals are given diets, temperature gradients, humidity gradients, behavioral opportunities and all other requirements based on the individual needs of their species. Our zookeepers stay on the forefront of modern research in the care of the animal species they are responsible for, so be able to continuously improve
Our animals will receive not just the basics, but an enriched life, with a spacious and varied living space and unexpected opportunities to experience novel objects and situations
Our animals will be protected from stress by monitoring programs, 'vacation' times and appropriate hiding spaces
Reptilia maintains a zero tolerance policy for abuse (all cases would be grounds for instant dismissal and prosecution to the extent provided by law)
Our focus on animal health is primarily the prevention of illness.  When an illness occurs, we ensure rapid medical care to aid recovery and ease any suffering
Our Cast Members receive the training and resources required to provide the best care for the species for which they have responsibility.  Our Epaulet training program controls the consistency of our standards through regular monitoring and review of the skills of our Cast Members.  Thus we ensure only those Cast Members suitably qualified to continue to be allowed access to our animals
Toothless, Arya, and Sarah the American Alligators
Rescued from Illegal Smugglers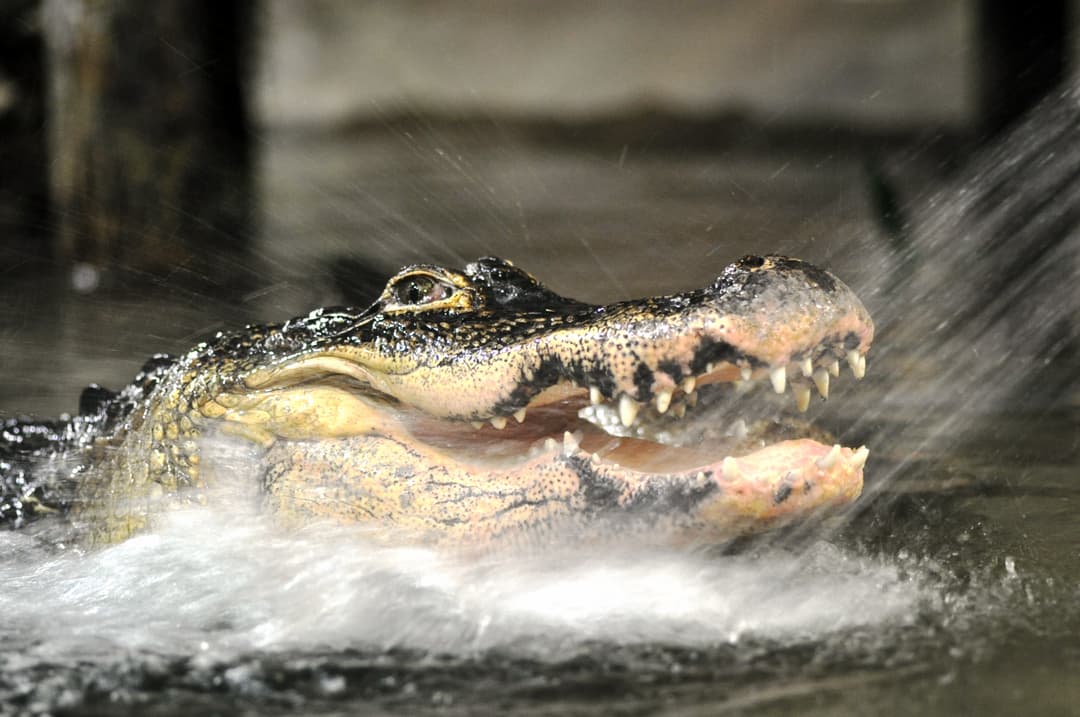 READ THEIR STORY
Ever thought of having a pet alligator? Some people do! Due to their tremendous size, lengthy lives and specific care demands, they don't typically make the best pet choice! Beyond that, they're protected in their native country, the United States, and it's illegal to bring them to Canada. The only way they get here is by being smuggled into the country, and that's exactly what happened to our alligators Toothless, Arya and Sarah.
They were much smaller then than they are now, small enough that they could be sown in the lining of the smuggler's jacket. However alligators are very vocal animals, and those baby gators happened to call for help right at the border, triggering an investigation. The babies were able to make their lifelong home at Reptilia, but many alligators still get smuggled into Canada for the pet trade.
Biscuit the Box Turtle
Wild Attack Survivor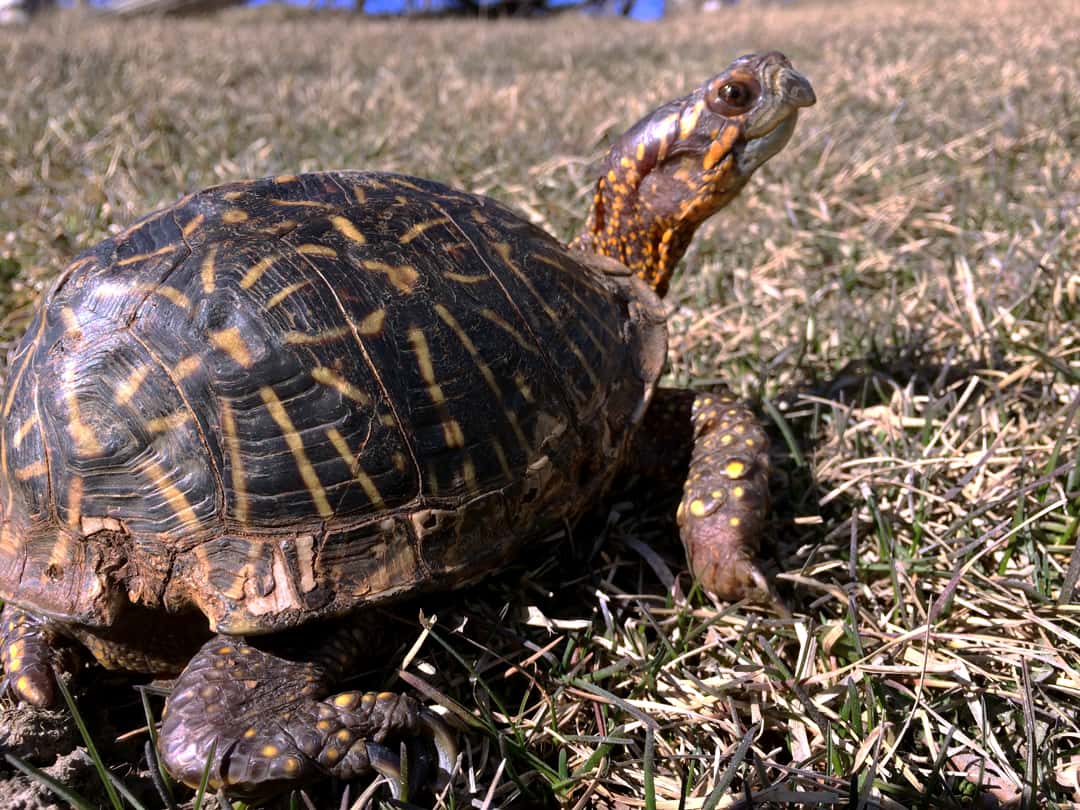 READ BISCUIT'S STORY
Turtles have incredibly long lives and tend to take a lot more care then many people expect. Finding a new home is incredibly difficult due to the vast quantity being surrendered, and sometimes people end up being released into the wild. Although this may seem like a nice alternative to living in a cage, most released turtles do not survive, and those that do often have negative impacts on the native wildlife.
Biscuit had a narrow escape. The first thing that found him after being released into the wild in British Columbia (thousands of kilometers from his native range in Florida) was a dog. Although Biscuit's shell likely saved his life and limbs that day, he still carries the scars of the bite marks in his shell and is very fortunate he was found by someone before the dog did more damage.